Family and Friends Lunch/Dinner
Available throughout Ireland!

This is the perfect choice for families and small groups to enjoy a casual, home cooked Tuscan meal. Let the chef do the work for you and prepare the traditional dishes that local families eat every day. Rustic, delicious, authentic food that chef Davide has loved his whole life.
There are plenty of meat, fresh seafood, vegetarian and real traditional Italian dishes to choose from (gluten free pasta also available). You will get a full meal of your choice that includes 2 starters, a main, and a dessert. Service and cleaning are included. And a wine pairing of two wonderful Italian wines selected by the chef are offered as add-on.
 Item
Basic Price for 4 people
Extra person
Full Meal 
4 dishes of your choice from the menu items below
£390
£80
Add Wine (2 bottles)
£70


YOU WILL BE CHOOSING 4 DISHES FROM THE MENUS BELOW. After you book Chef Davide will contact you to discuss scheduling, the menu, and special dietary requirements.
If there are any add-ons or extras you want to add (including more wine) you can discuss it with Davide when he contacts you. 
Travel fee applies if you are located more than 50 miles from London.

Regular price
$472.00 USD
Regular price
Sale price
$472.00 USD
Unit price
per
Sale
Sold out
Share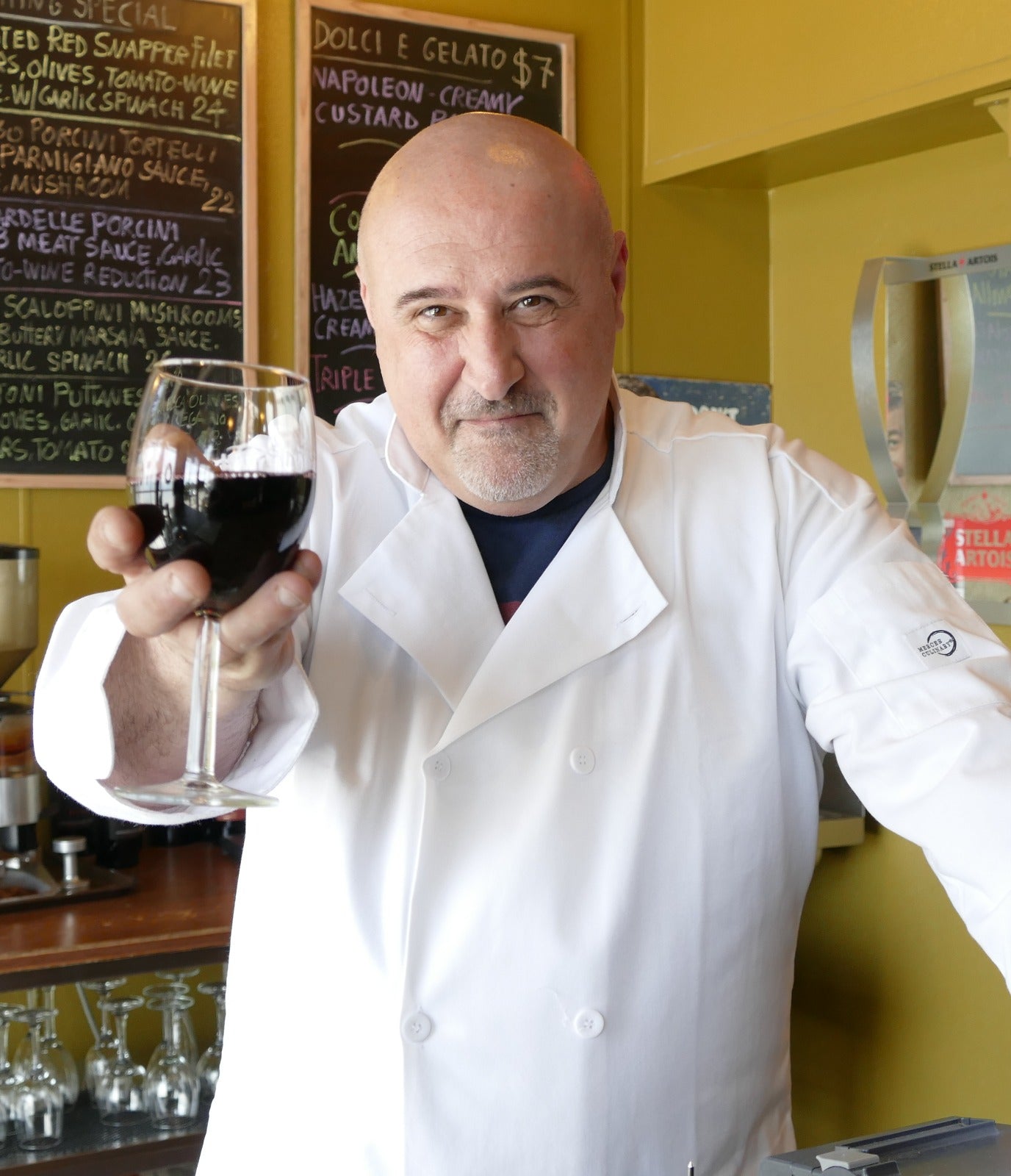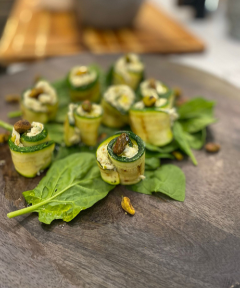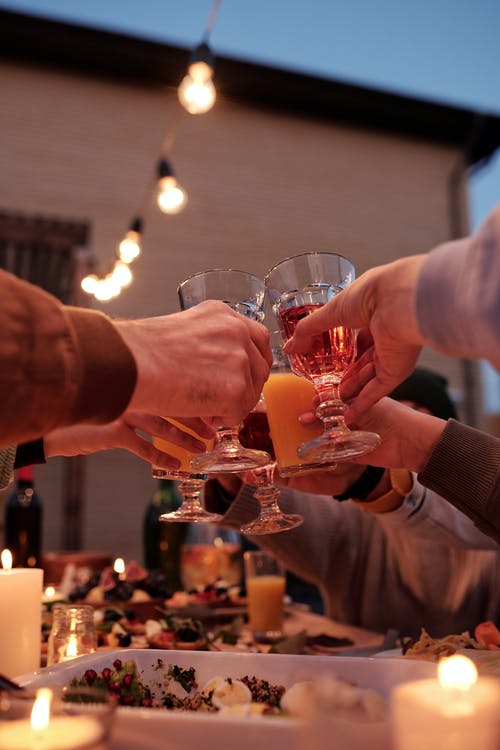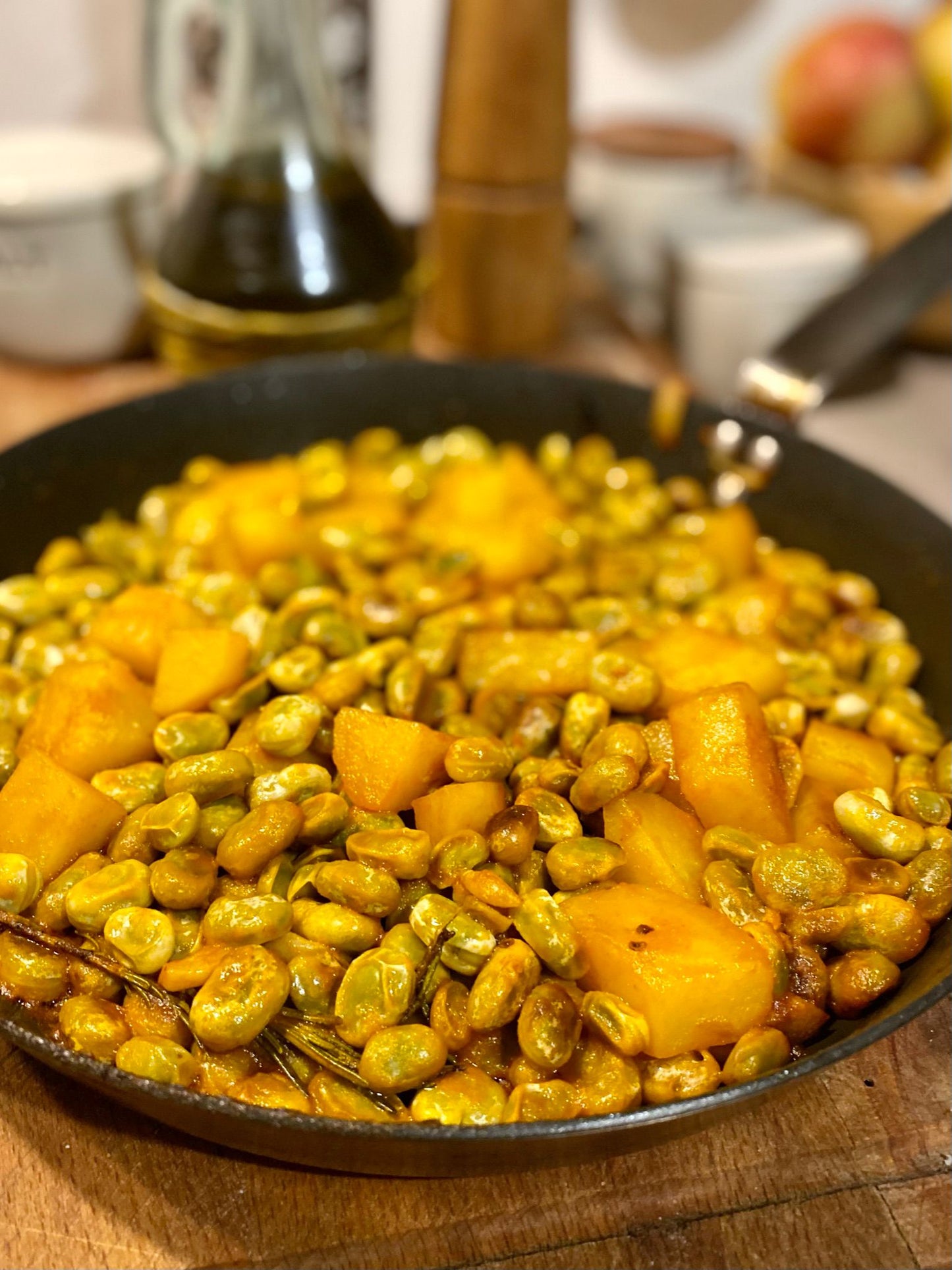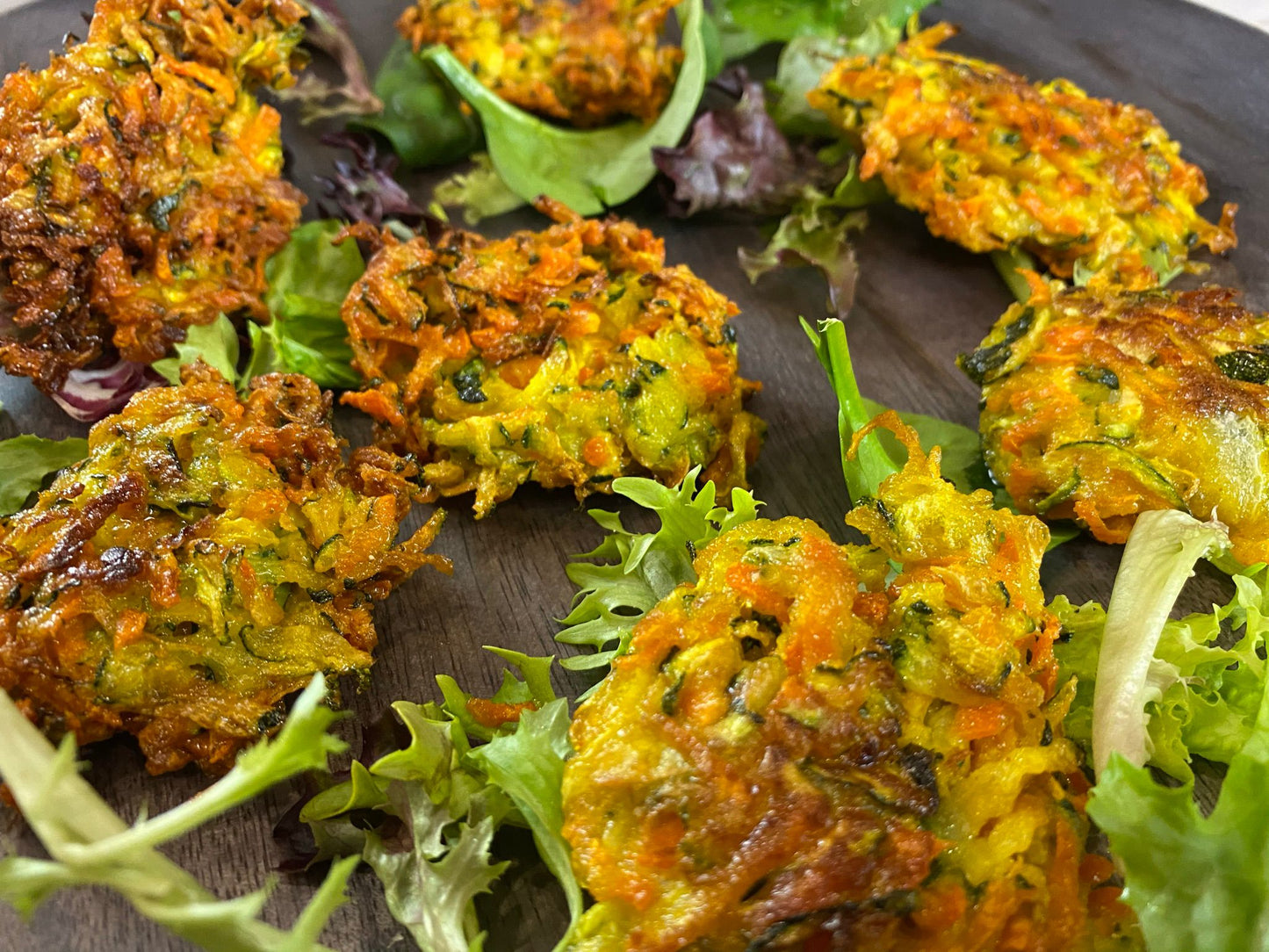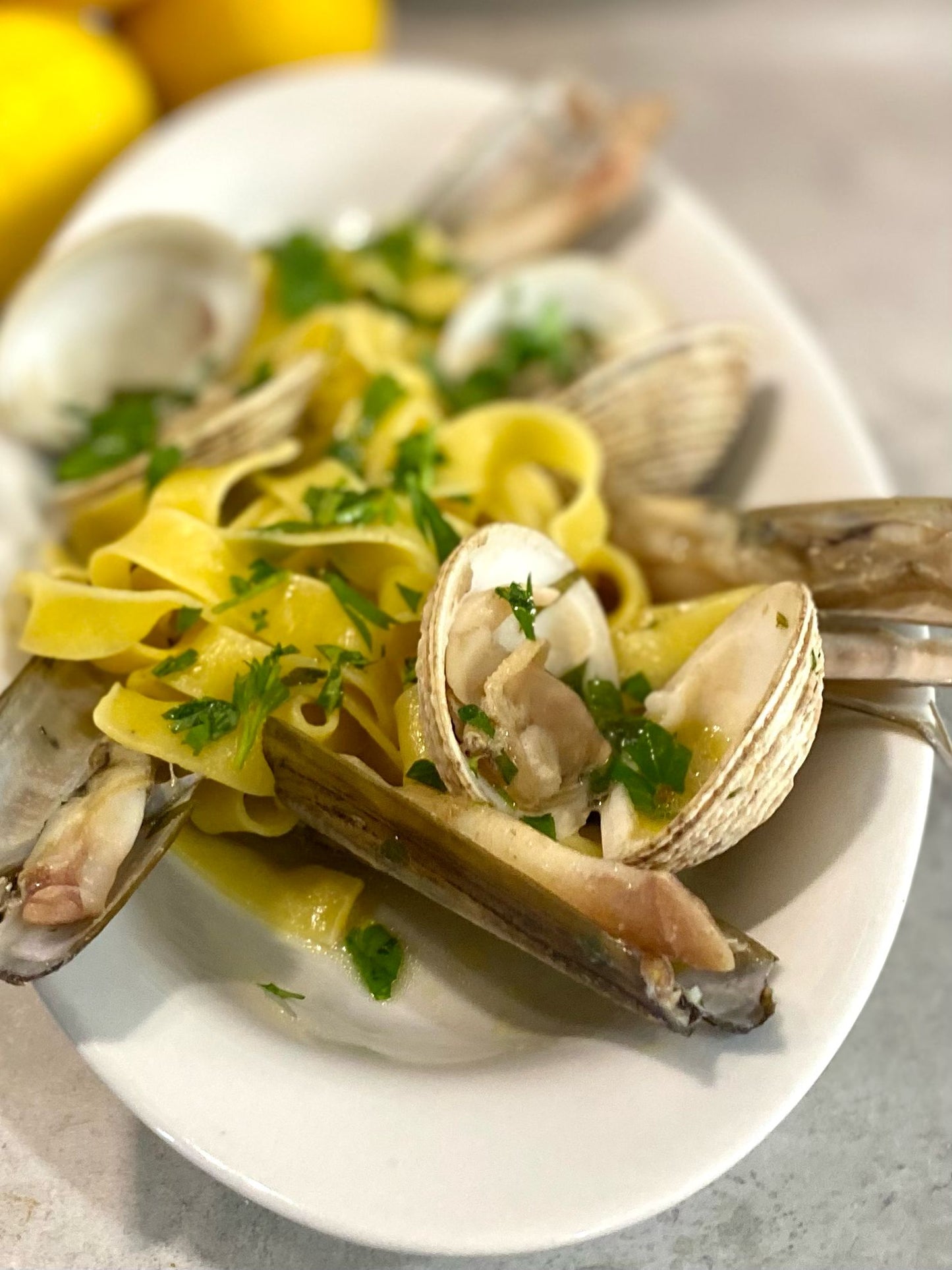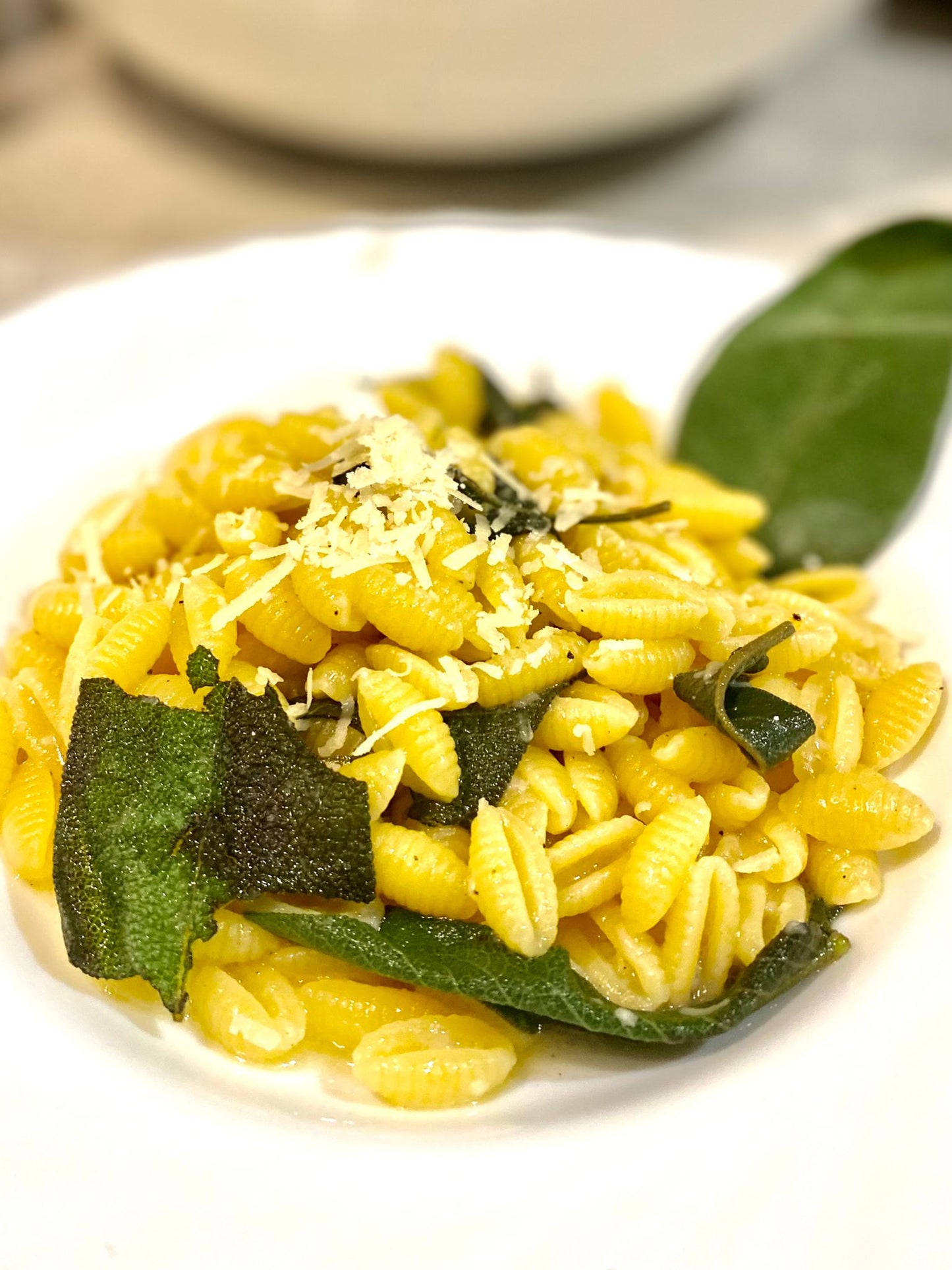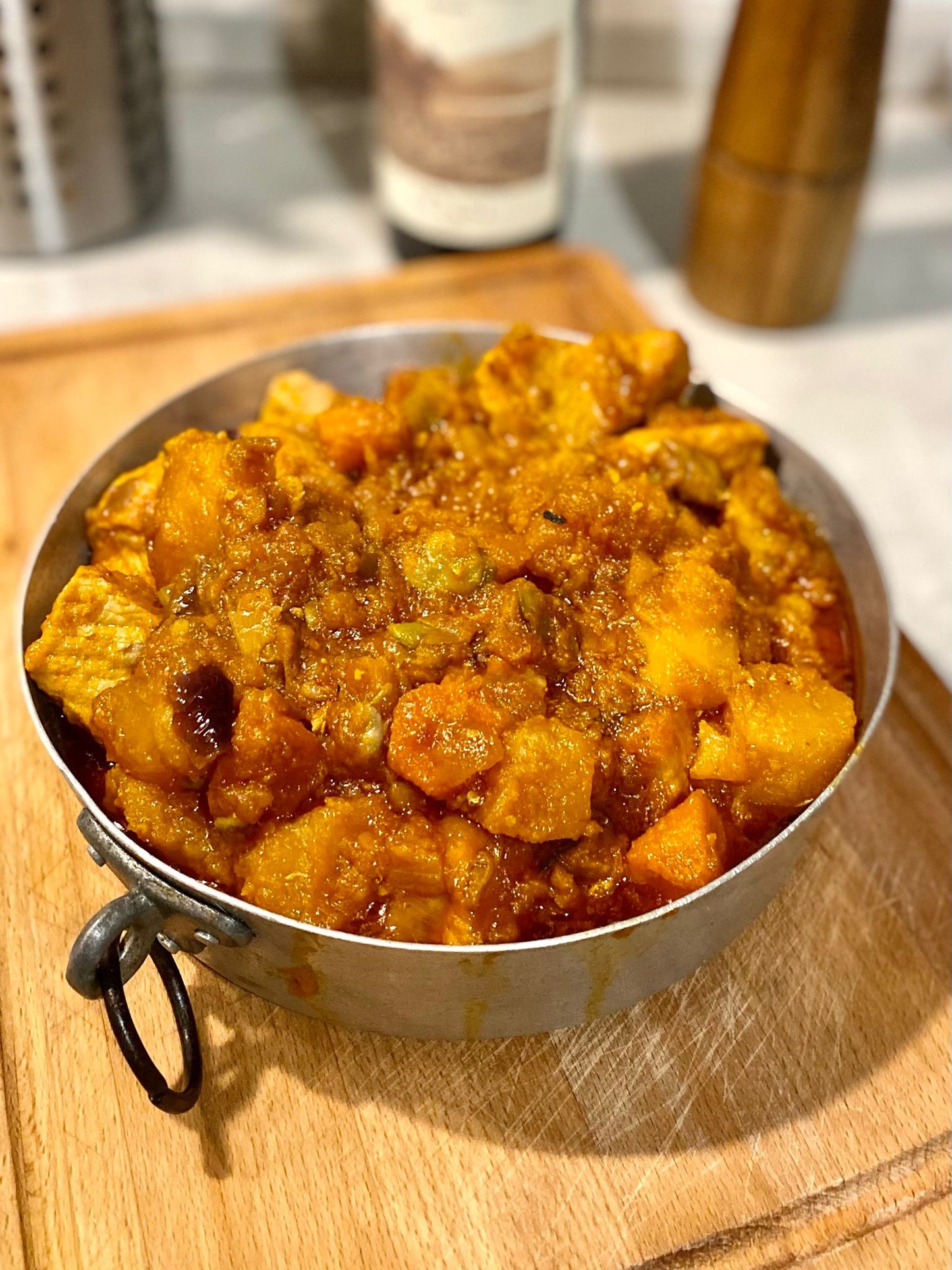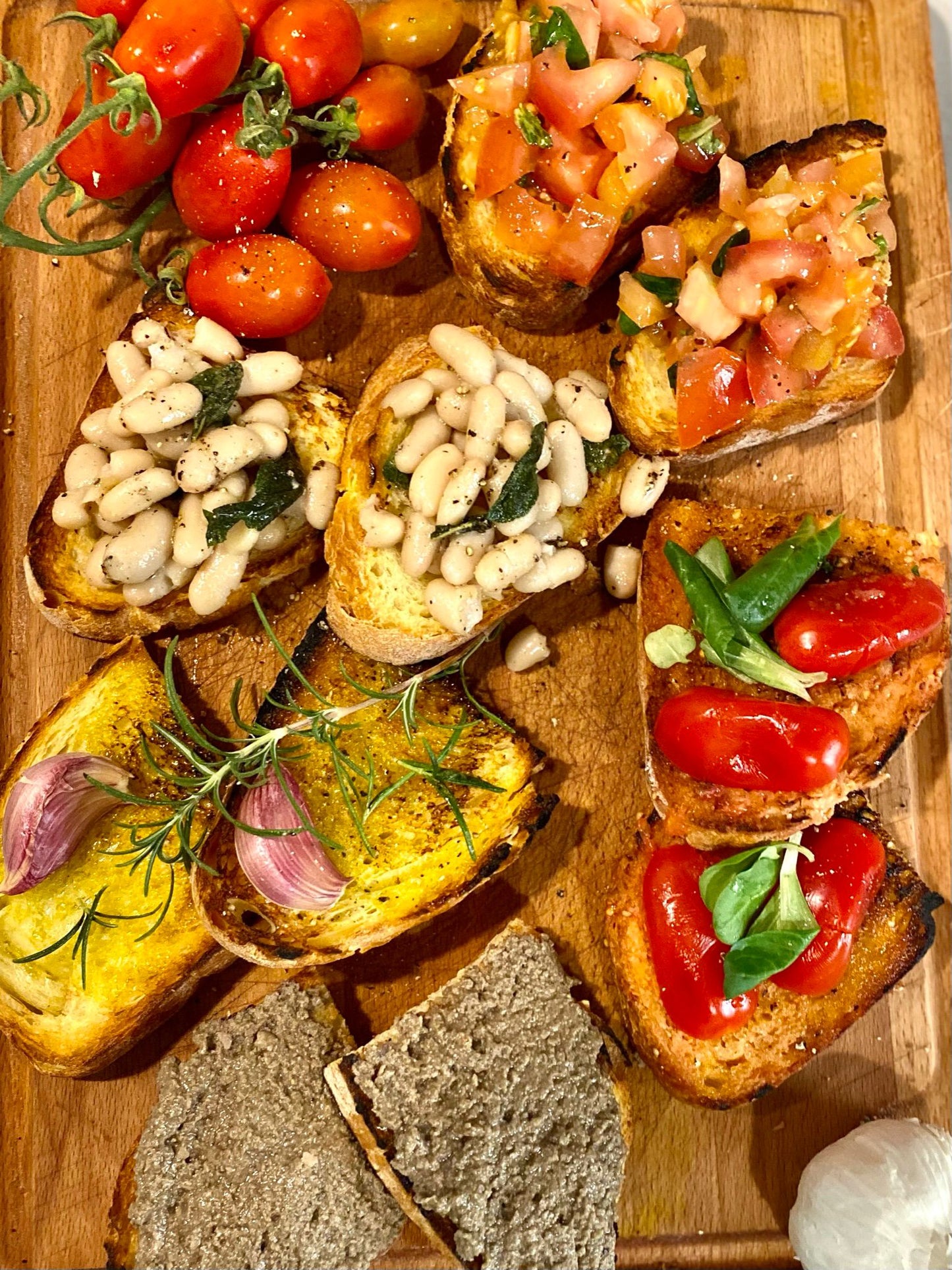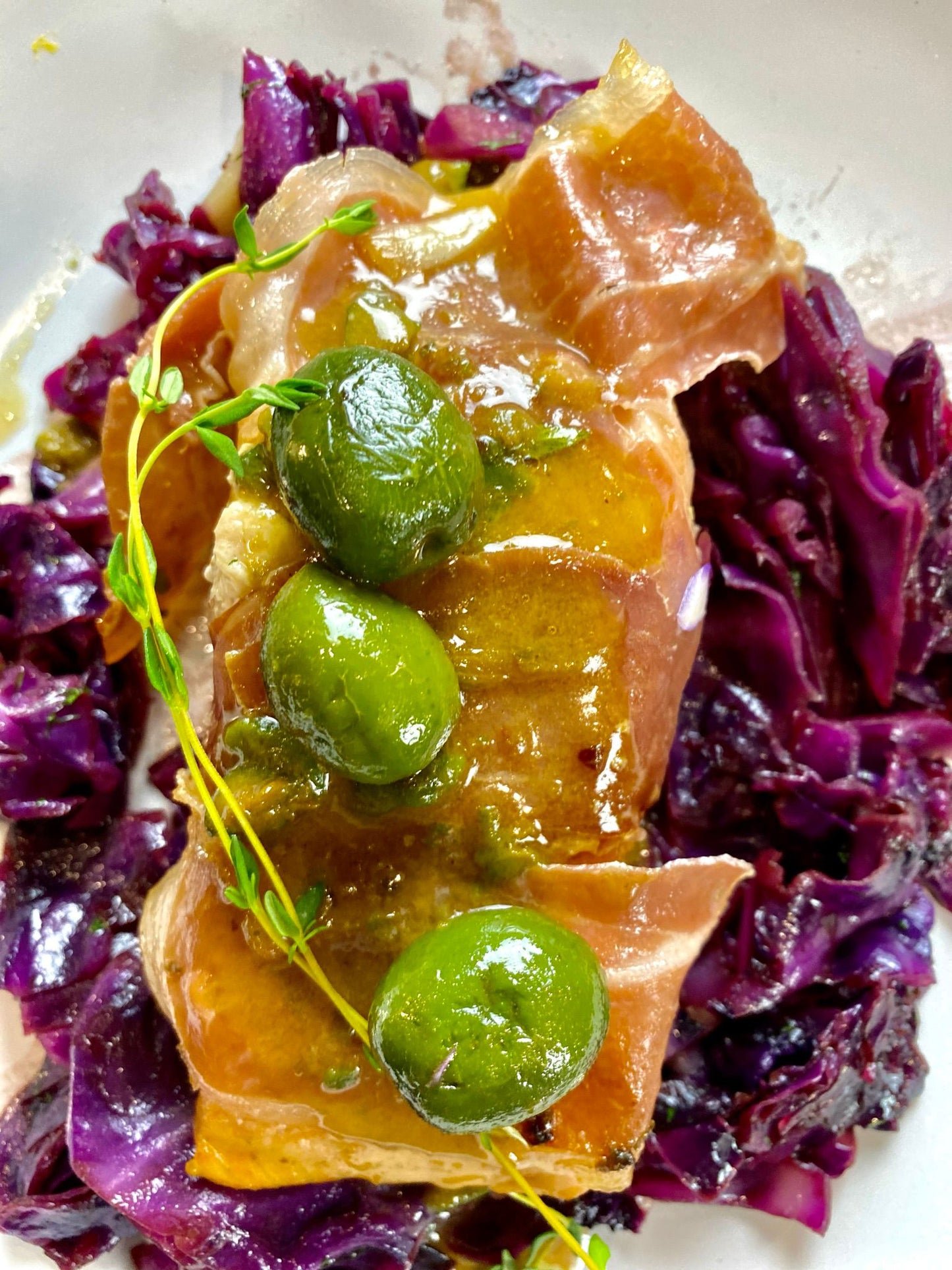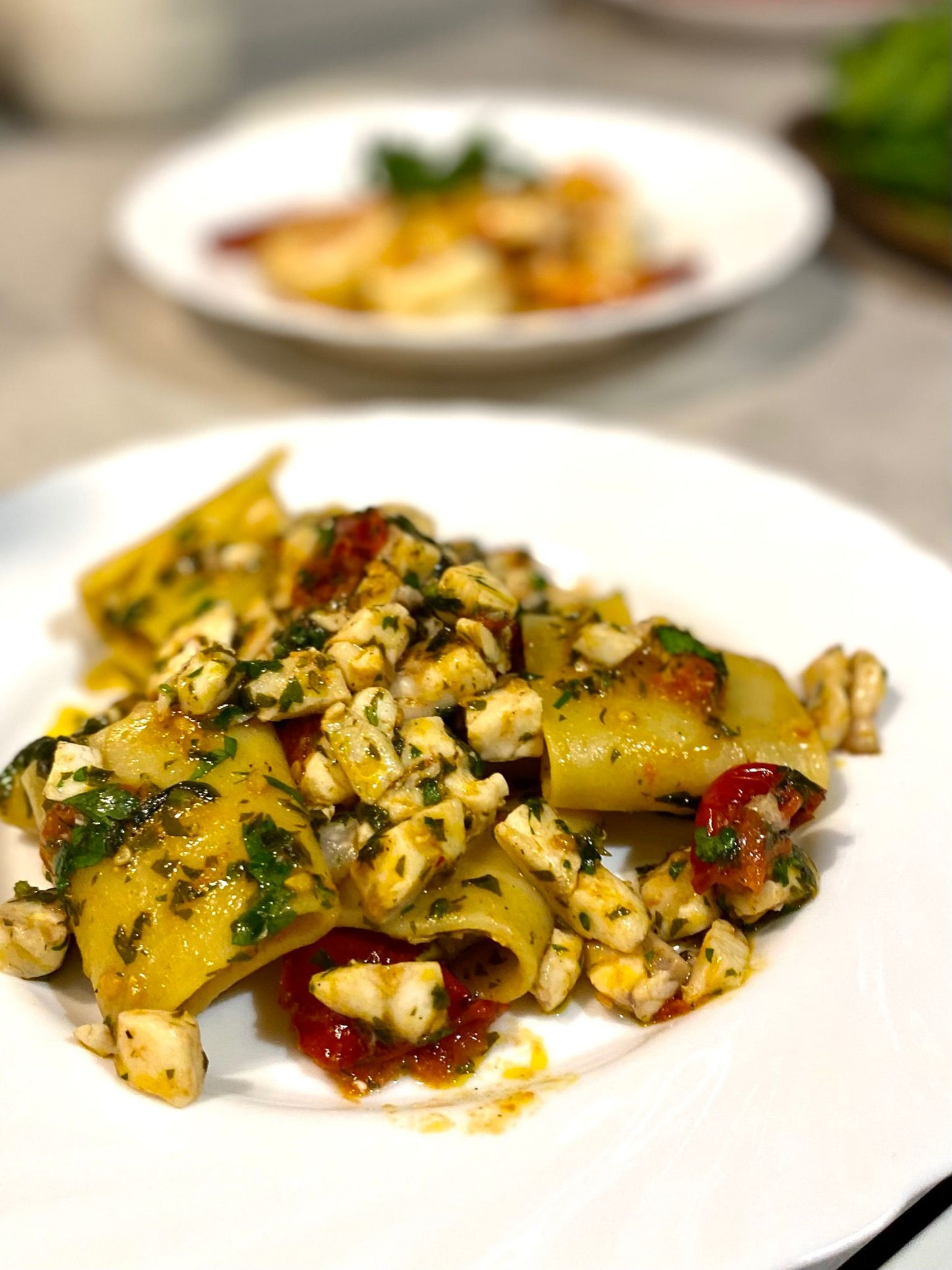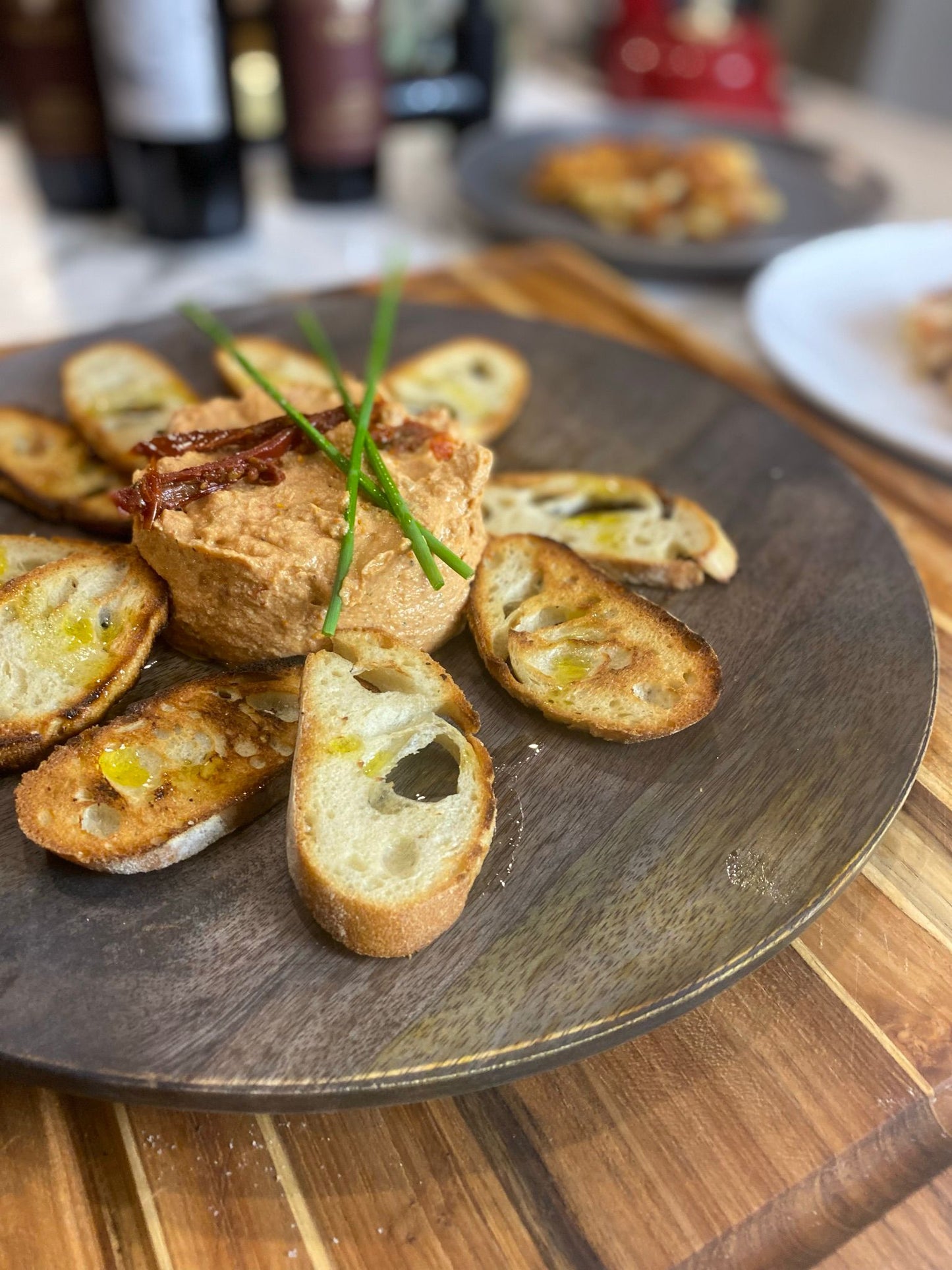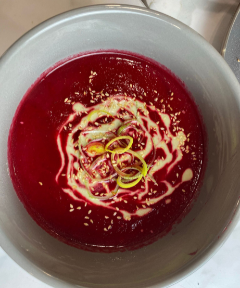 We offer a full refund within 24 hours of booking.
After that time, please see our Cancellation Policy (below).
Chef Davide will contact after you book to go through your menu, logistics and timing.
If your location is more than 25 km from Kilkenny you'll receive a separate invoice of €50 for travel expenses, due at the time of confirmation.
Collapsible content
Cancellation Policy

Please contact support@1starchef.com if you wish to cancel your booking.

We offer a full refund within 24 hours of booking.

After 24 hours have passed, we retain a percentage of the entire booking amount as a cancellation fee, depending on how much time remains before your event

| | | |
| --- | --- | --- |
|  From | To | Amount of original booking retained as cancellation fee  |
| Reservation Day | 50 days until date of booked service | 30% |
| 49 days until date of booked service | 30 days until date of booked service | 50% |
| 29 days until date of booked service | 15 days until date of booked service | 70% |
| 14 days until date of booked service | 0 days until date of booked service | 100% |

. 
Chef Requirements and Advice

The Chef need access to the kitchen at least an hour before the start of the event

The kitchen must be clean and free of any personal belonging

The event will start at the schedule time even if not all the guests are present

We will not provide silverware, plates and glassware, make sure to have the necessary on stock

We will use any utensils and pantry available in the kitchen if necessary

Make sure oven and stove are properly working

The dining or working table must be set up by you prior the chef arrival

If kids are present please make sure to monitor them closely and kept off the kitchen and service area

 At the end our team will leave the kitchen clean but not the dining table if guests are still sitting

 Estimate time of event may vary based on the type of menu

 We are not responsible for missing or stolen articles

 Dogs must be kept on leash and off the kitchen and service area at all times

 If any of these requirements are not in place we reserve the right to leave the premises at any time without providing any service and/or any refund

 Please advise the chef of any allergy and/or dietary requirement prior to preparation starting
Travel Policy

A 50 EUR travel flat fee will apply to any area further than 25 km from Kilkenny.

Travel charges will be applied once the booking is confirmed. 
Menu Choices
ANTIPASTI/Starters
Vegetarian
ROTOLINI DI ZUCCHINE - Grilled zucchini rolls filled with stracchino cheese and chives
BRUSCHETTE MISTE - Mixed bruschetta, tomato & basil, beans and sage, olio and rosemary.
PANZANELLA FIORENTINA - Florentine bread salad with basil, tomato, cucumber and onion
POMODORI RIPIENI ALLA PANZANELLA - Fresh tomatoes filled with Panzanella Fiorentina
ROTOLINI DI MELANZANE - Grilled eggplant rolls filled with pesto, gorgonzola and walnuts
INSALATA DI FARRO - Farro barley salad with tomatoes, arugula, basil, cucumber, celery
INSALATA DI VERDURE GRIGLIATE - Arugula and grilled vegetable salad
PERE E PECORINO - Spinach salad with pears, Pecorino, almonds and honey dressing
FUNGHI E PARMIGIANO - Mushroom salad with Parmigiano, arugula and balsamic
Meat
ROTOLINI DI PROSCIUTTO - Prosciutto rolls filled with certosa, arugula and salsa verde
INSALATA SALAME E FICHI - Green salad with salametto, figs and pecorino
INSALATA DI PROSCIUTTO E NOCI - Green salad with prosciutto, walnut and goat cheese
Seafood
GAMBERI AL MIELE E PEPERONCINO - Sauteed spicy prawns with honey-peperoncino glaze
TONNO CIPOLLA E POMODORI - Tomato salad with cured tuna, basil, onion and olive oil
INSALATA DI MARE - Green salad with shrimps, mussels, clams and lemon dressing
Main Course Options
VEGETARIAN
*********************************
PAPPA AL POMODORO
Tuscan  bread and basil thick soup
--------------------------------------
PEPERONATA
Braised bell pepper, potatoes, basil stew
--------------------------------------
PASTA E FAGIOLI
Cannellini bean and pasta thick soup
--------------------------------------
PASTA E CECI
Garbanzo bean and pasta thick soup
--------------------------------------
ZUPPA DI FARRO
Farro barley, beans, vegetable thick soup
--------------------------------------
MELANZANE ALLA PARMIGIANA
Eggplant Parmigiana
--------------------------------------
PICI CACIO E PEPE
Artisan Pici Senesi with traditional Pecorino cheese sauce
--------------------------------------
PICI ALL' AGLIONE
Artisan Pici Senesi pasta with traditional tomato & garlic sauce
--------------------------------------
PACCHERI CARCIOFI E PORRI
Artisan Paccheri pasta with artichokes-leek ragu'
--------------------------------------
SPAGHETTI AGLIO OLIO E PEPERONCINO
Spaghetti olive oil, garlic and peperoncino
--------------------------------------
SPAGHETTI POMODORO MOZZARELLA E BASILICO
Spaghetti tomato, basil, mozzarella
--------------------------------------
SPAGHETTI AL PESTO DI RUCOLA E NOCI
Spaghetti arugula & walnut pesto
--------------------------------------
PENNE PEPERONI E MASCARPONE
Penne with bell pepper-basil sauce and mascarpone
--------------------------------------
RISOTTO CARCIOFI PECORINO E ZAFFERANO
Risotto artichokes, Pecorino, saffron
--------------------------------------
RISOTTO RADICCHIO E GORGONZOLA
Risotto with radicchio and gorgonzola cheese
--------------------------------------
STUFATO DI CARCIOFI E BACCELLI
Artichokes, fava beans, potatoes stew
MEAT
******************************************
TORTELLINI IN BRODO
Meat tortellini with broth
--------------------------------------
TORTELLINI PANNA PROSCIUTTO E PISELLI
Meat tortellini with ham, peas and cream
--------------------------------------
RAVIOLI AL SUGO
Spinach and ricotta ravioli, Tuscan meat ragu
--------------------------------------
PACCHERI AL SUGO TOSCANO
Paccheri with Tuscan meat ragu
--------------------------------------
PACCHERI AL SUGO E BESCIAMELLA
Paccheri with meat ragu and bechamel
--------------------------------------
PACCHERI FEGATINI PISELLI E MARSALA
Paccheri with chicken liver, peas and Marsala
--------------------------------------
PENNE ALLA BOSCAIOLA
Penne with pancetta and mushroom ragu
--------------------------------------
PENNE AL POLLO E PESTO ROSSO
Penne with chicken and creamy sun dried tomato pesto
--------------------------------------
RISOTTO SALSICCIA E FUNGHI
Risotto with sausage and mushroom
--------------------------------------
STUFATO DI POLLO E PATATE
Chicken and potato stew
--------------------------------------
STUFATO DI MANZO E PEPERONI
Beef and bell pepper stew
--------------------------------------
PETTO DI POLLO AL LIMONE
Chicken breast with lemon-butter sauce
--------------------------------------
PETTO DI POLLO ALLA PIZZAIOLA
Chicken scaloppine, tomato, mozzarella and capers
--------------------------------------
INVOLTINI DI POLLO
Chicken rolls filled with prosciutto, mozzarella, sage-butter sauce
--------------------------------------
BISTECCA PROSCIUTTO E FONTINA
Pork chop with prosciutto, fontina, wine sauce
--------------------------------------
ARISTA DI MAIALE RIPIENA AL SALAMETTO
Roasted pork loin filled with salametto
--------------------------------------
BRACIOLINE IN UMIDO
Breaded pork scaloppine with tomato-garlic sauce
--------------------------------------
STRACCETTI ALL'OLIO
Sauteed beef strips with garlic, rosemary, olive oil
--------------------------------------
BRACIOLINE RIPIENE
Beef rolls filled with prosciutto and cheese, tomato sauce
--------------------------------------
SALSICCE E PEPERONI
Roasted sausage with bell peppers and potatoes
--------------------------------------
SALSICCE E FAGIOLI
Tuscan sausage and beans, garlic, tomato and sage
SEAFOOD
******************************
PENNE COZZE SALSICCIA E PEPERONCINO
Penne with mussels, sausage & peperoncino
--------------------------------------
PENNE GAMBERI E SALSA ROSA
Penne with prawns and creamy pink sauce
--------------------------------------
PENNE COZZE E VONGOLE AL POMODORO
Penne with mussels, clams and tomato
--------------------------------------
SPAGHETTI ALLO SCOGLIO
Spaghetti with fresh shellfish light tomato-wine sauce
--------------------------------------
SPAGHETTI ALLE VONGOLE
Spaghetti with fresh clams white wine sauce
--------------------------------------
RISOTTO AI FRUTTI DI MARE
Risotto with fresh shellfish
--------------------------------------
BACCALA' ALLA LIVORNESE
Fresh cod filet Livornese, tomato, olives, capers
--------------------------------------
SEPPIE IN UMIDO
fresh squid cuttlefish braised with tomato-red wine sauce
--------------------------------------
COZZE AL MARSALA
Fresh mussels with creamy sage-Marsala sauce
--------------------------------------
SALMONE POMODORO OLIVE E CAPPERI
Roasted salmon, lemon, capers, olives
--------------------------------------
SALMONE AL PROSCIUTTO E OLIVE
Prosciutto wrapped salmon filet, oregano, olives
DESSERT
DESSERT
*********************
PESCHE ALLA VERNACCIA - Fresh peaches with Vernaccia wine, lemon on vanilla gelato
ZABAGLIONE CON LE FRAGOLE - Cold egg cream Zabaglione with strawberries
CANTUCCI E VIN SANTO - Tuscan almond cookies Cantuccini & Vin Santo dessert wine
FRITTELE DI MELE TOSCANE - Tuscan Apple fritters with vanilla gelato
TIRAMISU - Traditional coffee mascarpone Tiramisu
CREMA DI MASCARPONE - Cream of Mascarpone with berries