For a Limited Time! Your Purchase today includes our fabulous Spaghetti Show E-book with 21 recipes and recorded classes absolutely free!
Private Zoom Cooking Classes - Family and Friend Groups
Enjoy a Cooking Class and Meal with your Friends or Family No Matter Where They Are!
Invite your group to join you from their own kitchens for a uniquely entertaining and informative cooking experience with Chef Davide Cerretini...a cooking class via Zoom!


Perfect for family events during social distancing
Everyone finishes with a meal they have made themselves
Interact with the chef and each other throughout the class
Informative, fun and delicious
Taught Live From Volterra, Italy
Imagine inviting your friends and family to cook alongside a real chef from Tuscany from the comfort of their own kitchen. You all buy and prep your ingredients ahead of time, and then you jump on the Zoom call, say cheers with a lovely glass of wine, and get cooking. 
Much laughter and fun later, you have all (hopefully!) created a delicious meal which you can then eat a meal together via Zoom, 
marvelling
 at the taste and your own skill. 
It's a wonderful way to spend time with loved ones who are far away and an evening that none of you will forget!

We have 2 options for you to choose from: a single course meal (one main dish), or two courses (a main dish and an appetiser).

The rate for one household automatically includes everyone in that home who might be cooking or eating in the same kitchen. So if you are a family of 4 living in the same house, you only pay for 1 household. Your Aunt Gladys and Uncle Reggie would count as 1 other household. And your cousin Linda with her 6 kids would also only count as 1 household.  
| | | |
| --- | --- | --- |
|  Items | Basic Rate for 4 households | Extra household |
| 1 Course Meal | £150 | £25 |
| 2 Course Meal  | £220 | £25 |
PLEASE SEE SAMPLE MENUS BELOW TO SEE SOME OF THE DISHES YOU CAN CHOOSE FROM. 
After you book Chef Davide will contact you to discuss your menu and special dietary requirements. Special requests (such as fresh pasta) can be accommodated for an additional fee. You can also add more households later on if needed for 25 EUR each.
Cancel within 24 hours of booking to receive a total refund.
Chef Davide is fluent in English, Spanish and of course, Italian.
Regular price
$189.00 USD
Regular price
Sale price
$189.00 USD
Unit price
per
Sale
Sold out
Share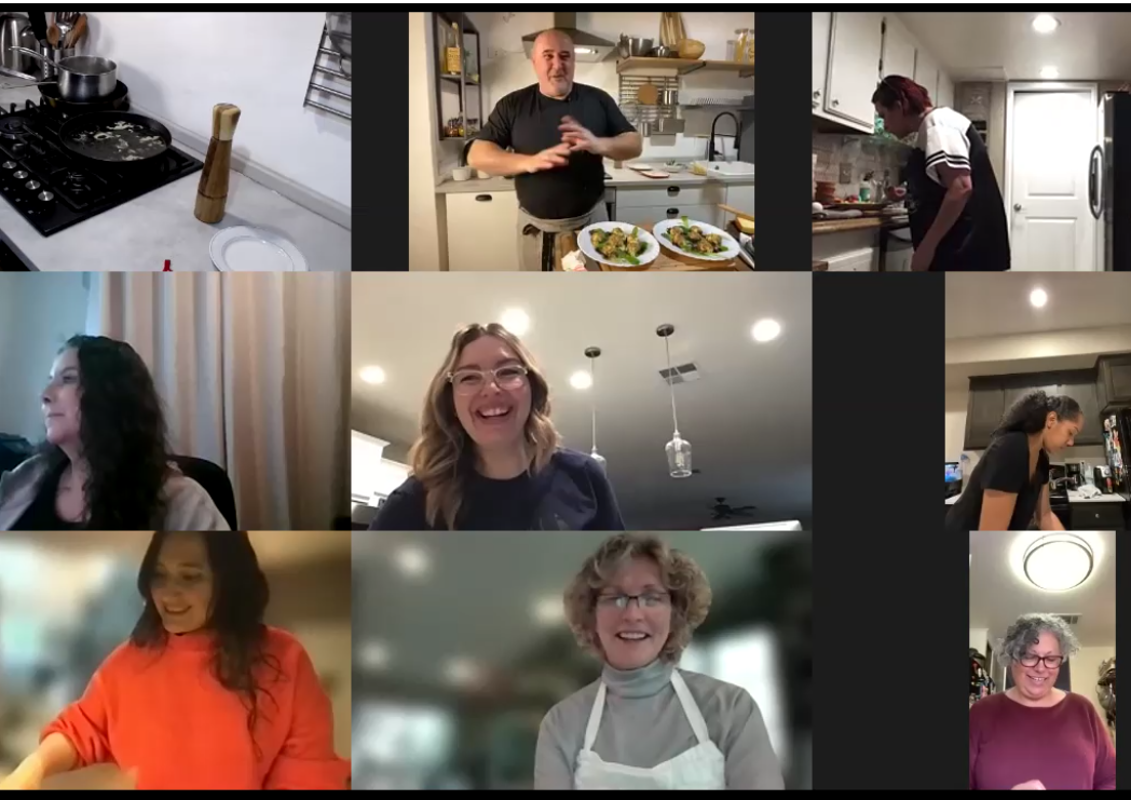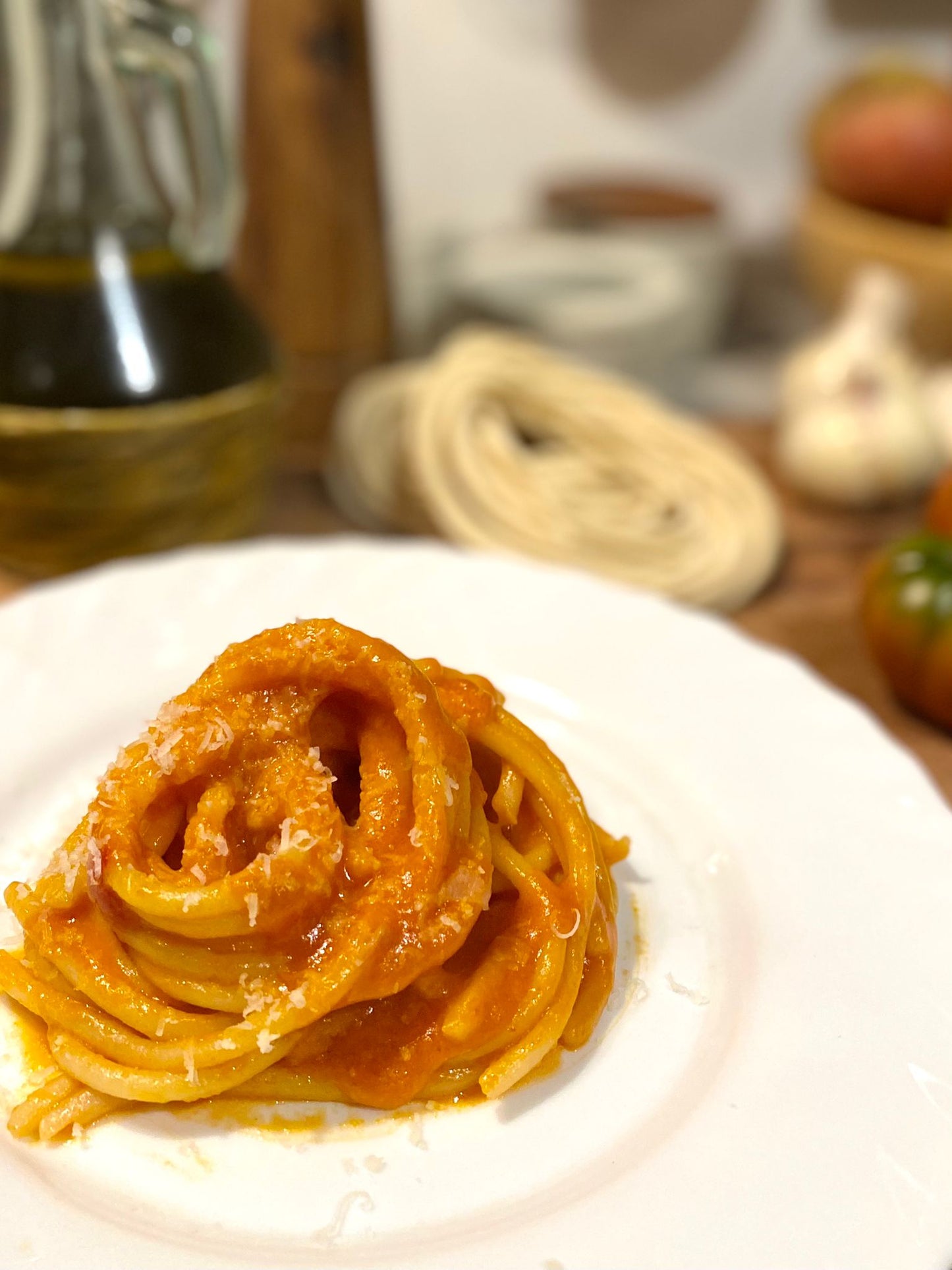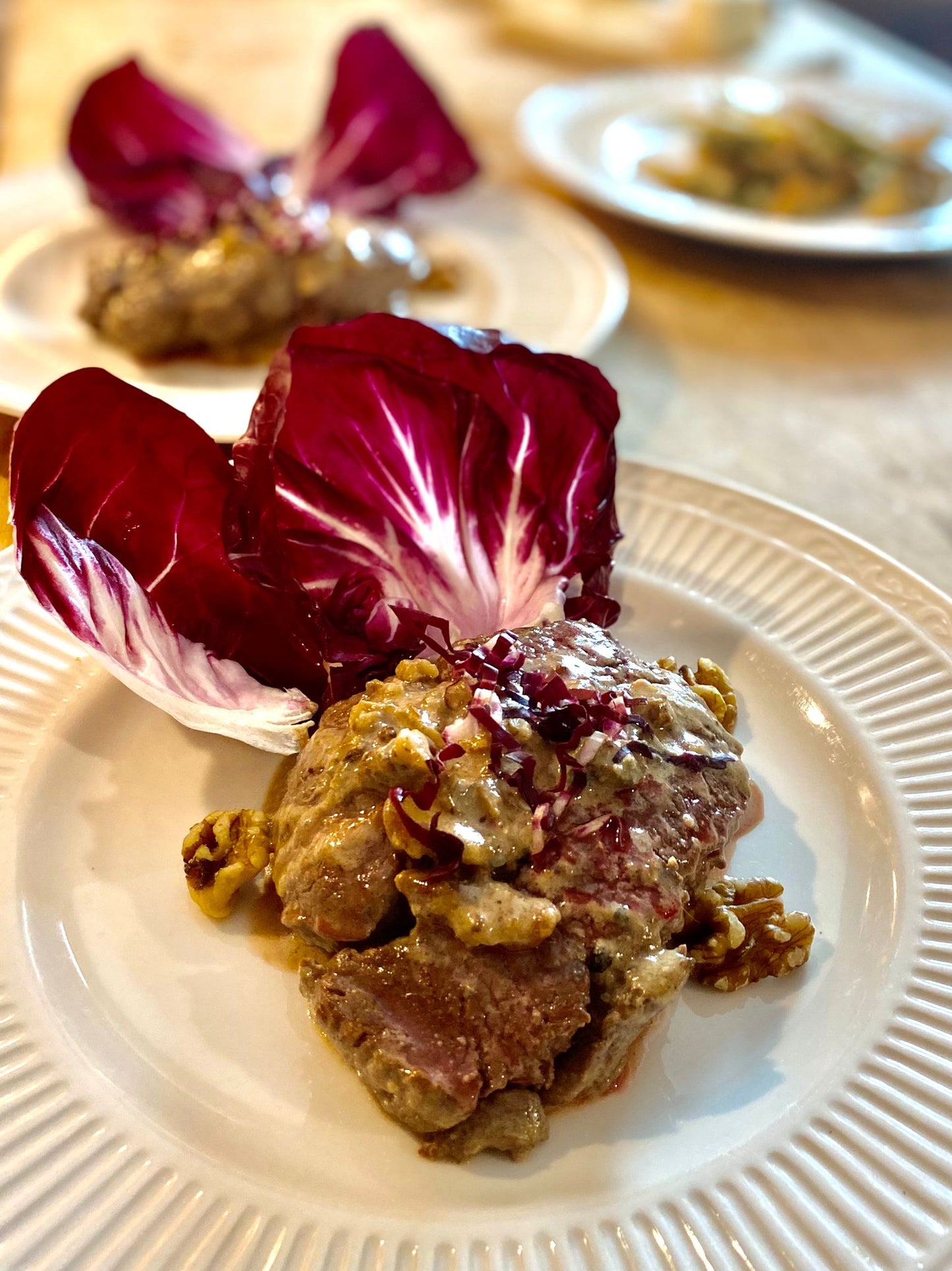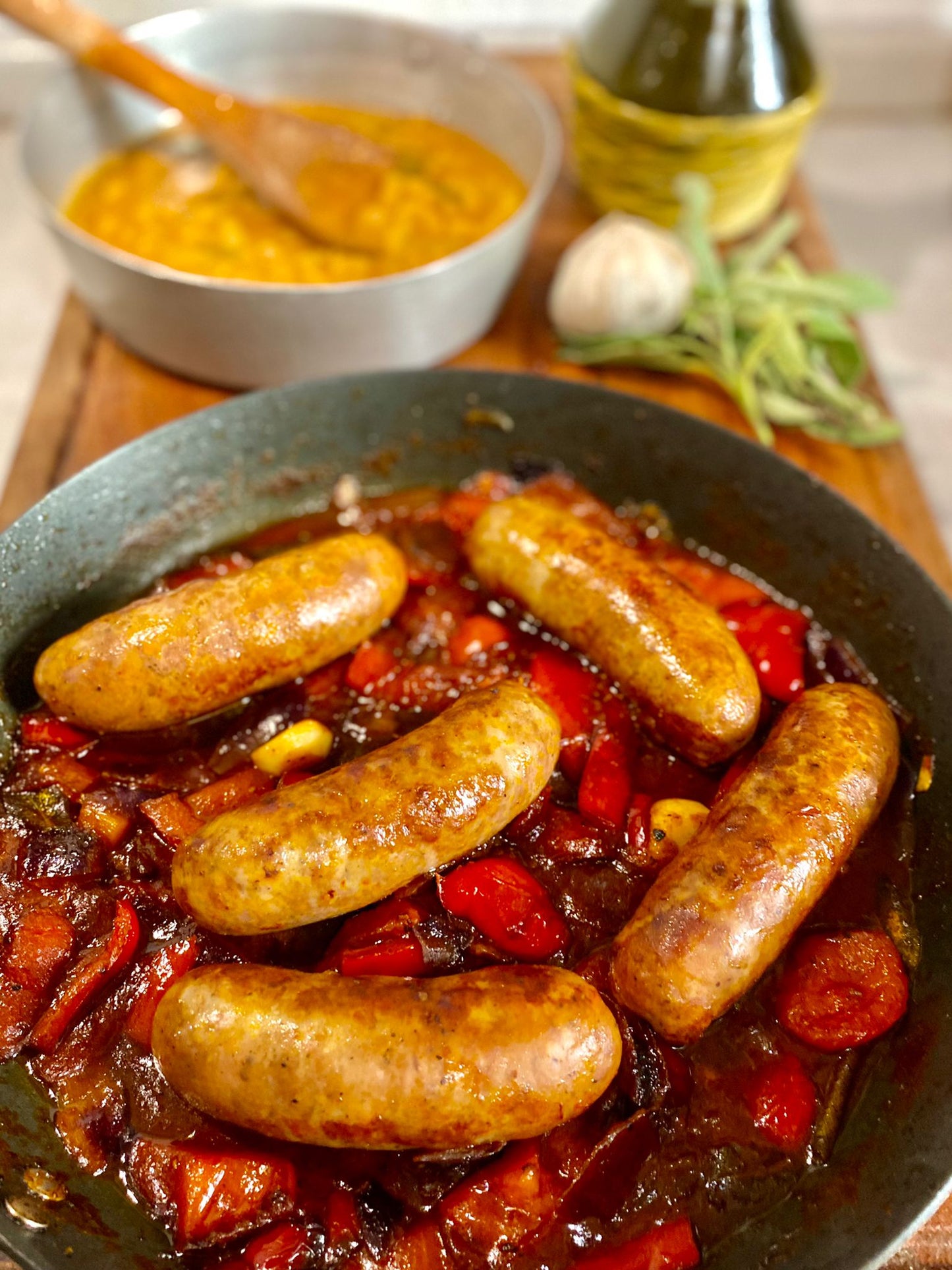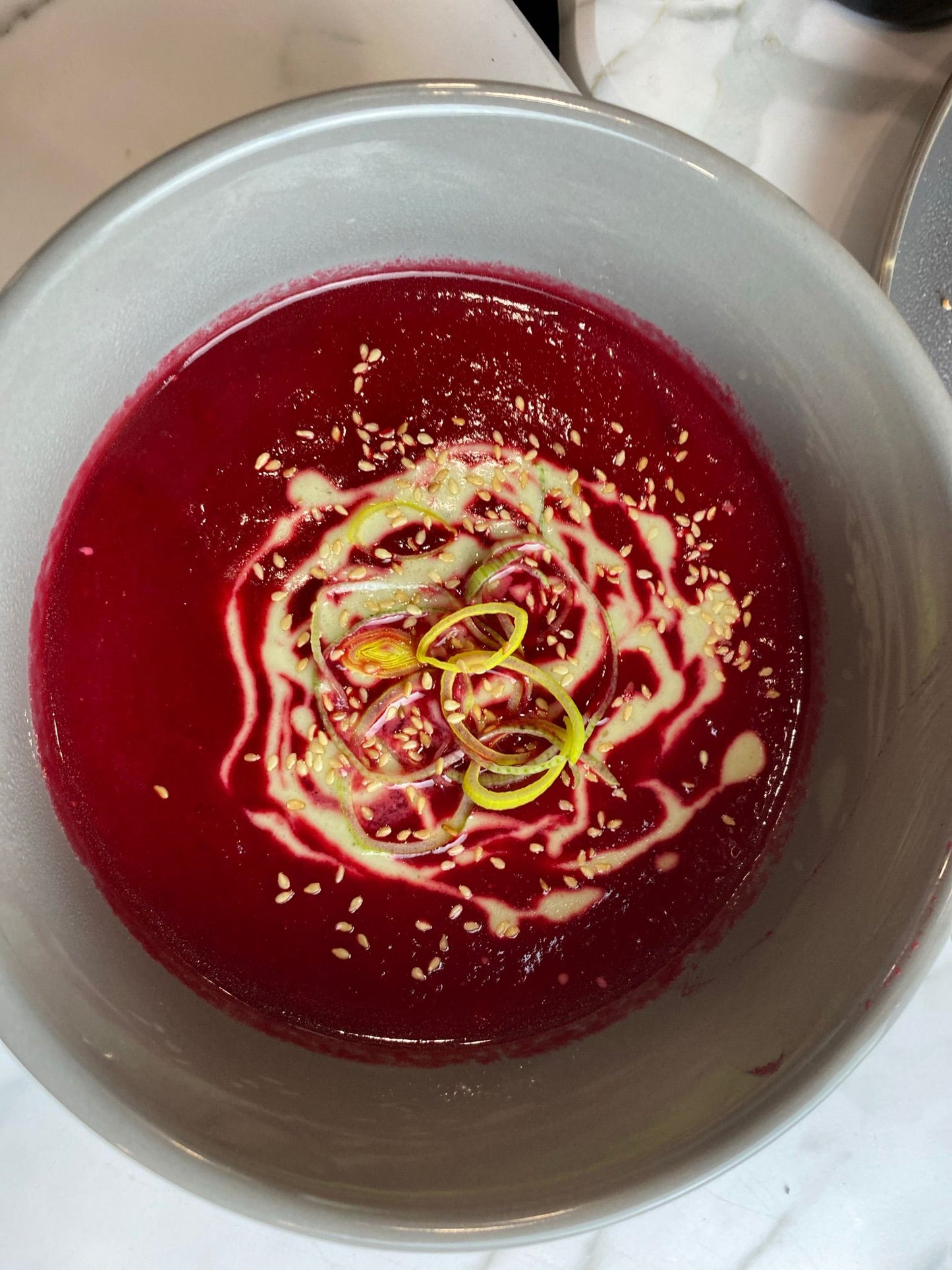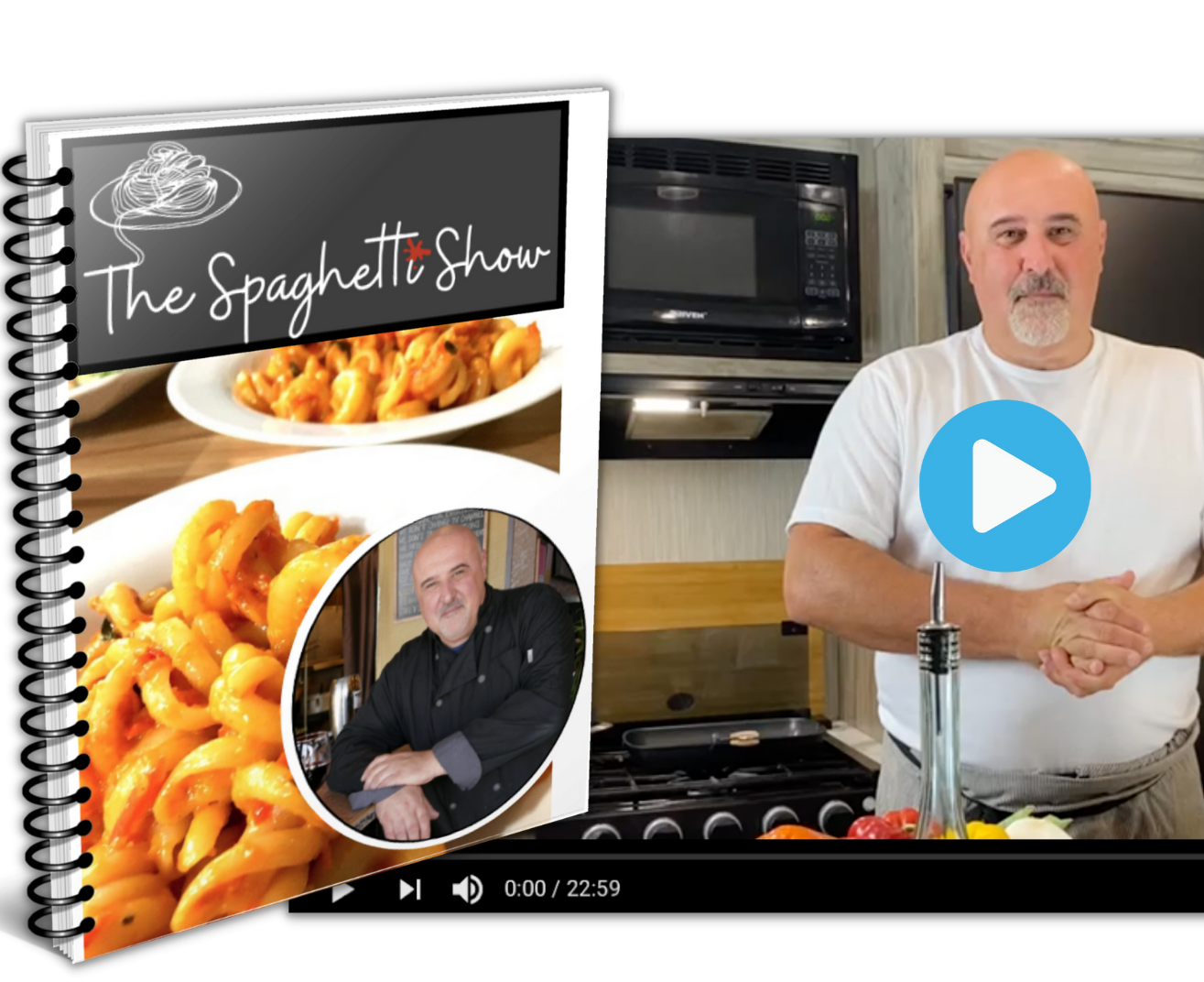 PLUS! Free with your purchase today...
Get The Spaghetti Show E-book (21 recipes + videos) absolutely free to download immediately.
Usually €17, this collection of classes and recipes are some of chef Davide's favorite Tuscan dishes of all time and they're included for free for all attendees when you purchase this class!
BOOK NOW TO RESERVE YOUR DATES
We offer a full refund within 24 hours of booking.
After that time, please see our Cancellation Policy (below).
Chef Davide will contact after you book to go through the menu with you and help you decide on the perfect dishes.
How Do Zoom Cooking Classes Work?
1.

When you sign up for a class you'll receive an ingredient list. Purchase and prep the food before the class begins.

2.

At the time of the class you join Chef Davide live on Zoom and cook the dishes along with him.

3.

You relax and eat your delicious, authentic Tuscan meal!
Collapsible content
Cancellation Policy

Please contact support@1starchef.com if you wish to cancel your booking.

We offer a full refund within 24 hours of booking.

After 24 hours have passed, we retain a percentage of the entire booking amount as a cancellation fee, depending on how much time remains before your event

| | | |
| --- | --- | --- |
|  From | To | Amount of original booking retained as cancellation fee  |
| Reservation Day | 50 days until date of booked service | 30% |
| 49 days until date of booked service | 30 days until date of booked service | 50% |
| 29 days until date of booked service | 15 days until date of booked service | 70% |
| 14 days until date of booked service | 0 days until date of booked service | 100% |

. 
Menu Choices
ANTIPASTI/Starters
Vegetarian
ROTOLINI DI ZUCCHINE - Grilled zucchini rolls filled with stracchino cheese and chives
BRUSCHETTE MISTE - Mixed bruschetta, tomato & basil, beans and sage, olio and rosemary.
PANZANELLA FIORENTINA - Florentine bread salad with basil, tomato, cucumber and onion
POMODORI RIPIENI ALLA PANZANELLA - Fresh tomatoes filled with Panzanella Fiorentina
ROTOLINI DI MELANZANE - Grilled eggplant rolls filled with pesto, gorgonzola and walnuts
INSALATA DI FARRO - Farro barley salad with tomatoes, arugula, basil, cucumber, celery
INSALATA DI VERDURE GRIGLIATE - Arugula and grilled vegetable salad
PERE E PECORINO - Spinach salad with pears, Pecorino, almonds and honey dressing
FUNGHI E PARMIGIANO - Mushroom salad with Parmigiano, arugula and balsamic
BURRATA E PESTO DI RUCOLA -Mozzarella burrata with arugula pesto and garlic crostini
Meat
CROSTINI TOSCANI - Traditional chicken liver pate' crostini
CROSTINI DI CAVOLO E SALSICCIA - Tuscan kale and sausage crostini
ROTOLINI DI PROSCIUTTO - Prosciutto rolls filled with certosa, arugula and salsa verde
INSALATA SALAME E FICHI - Green salad with salametto, figs and pecorino
INSALATA DI PROSCIUTTO E NOCI - Green salad with prosciutto, walnut and goat cheese
Seafood
GUAZZETTO DI COZZE E VONGOLE - Steamed clams and mussels with white wine broth
GAMBERI AL MIELE E PEPERONCINO - Sauteed spicy prawns with honey-peperoncino glaze
TONNO CIPOLLA E POMODORI - Tomato salad with cured tuna, basil, onion and olive oil
POLPO E PATATE - Octopus and potato salad with parsley and garlic
INSALATA DI MARE - Green salad with shrimps, mussels, clams and lemon dressing
Main Course Options
VEGETARIAN

PAPPA AL POMODORO
Bread, basil, garlic Tuscan thick soup


MINESTRA DI FAGIOLI
Tuscan bean thick soup with pasta


PASTA E CECI
Garbanzo bean & pasta


MINESTRA DI FARRO
Tuscan vegetables, barley, beans soup


RISOTTO CARCIOFI, PECORINO E ZAFFERANO
Risotto with artichokes, Pecorino and saffron


CASERECCE AL PESTO DI CAVOLO NERO
Caserecce pasta with Tuscan kale-Pecorino pesto


RIGATONI ALLA CARBONARA DI ZUCCHINE
Rigatoni with egg, Pecorino and zucchine


SPAGHETTI AL PESTO DI RUCOLA E NOCI
Spaghetti with arugula-walnut pesto


SPAGHETTI ALLA CAPRESE
Spaghetti with tomato, basil and fresh mozzarella


CAVATAPPI AI PEPERONI E MASCARPONE
Corkscrew with bell pepper-mascarpone sauce


ORECCHIETTE PATATE, CIPOLLA E FONTINA
Pan roasted Orecchiette pasta, potatoes, onion, Fontina cheese


PICI CACIO & PEPE
Pici pasta with creamy Pecorino-black pepper sauce


PICI ALL' AGLIONE
Pici pasta with garlic-tomato sauce


INVOLTINI DI MELANZANE
Rolls of eggplant filled with ricotta and basil, tomato-garlic sauce


POMODORI FRITTI E SALSA VERDE
Fried tomato with salsa verde Livornese

-------------------------------
MEAT
--------------------------------

SALSICCE E FAGIOLI
Braised sausage with beans and tomato


RISOTTO SALSICCIA E PORCINI
Risotto with Porcini mushroom and sausage


PENNE AL RAGU' DI PORCINI E PANCETTA
Penne with Porcini and Pancetta ragu'


RIGATONI ALLA ZOZZONA
Rigatoni with sausage, pancetta, Pecorino, egg and tomato


RIGATONI ALLA CACCIATORA
Rigatoni with chicken and olives ragu'


PACCHERI ALLA NORCINA
Paccheri pasta with Porcini, sausage, sage, creamy Parmigiano


POLPETTE IN UMIDO
Tuscan meatballs braised with tomato


ZUCCHINI RIPIENI
Baked zucchini filled with beef and parmigiano


PETTO DI POLLO AL LIMONE
Pan roasted chicken breast with lemon butter sauce


SCALOPPINE DI POLLO PIZZAIOLA
Chicken scaloppini with tomato capers, mozzarella and oregano


INVOLTINI DI POLLO AL COTTO
Rolls of chicken filled with cheese and ham, white wine-sage sauce


POLLO E PATATE RIFATTE
Tuscan chicken stew with twice cooked potatoes


MAIALE AL PROSCIUTTO E FONTINA
Pork chop with prosciutto, Fontina, white wine sauce


BRACIOLINE IN UMIDO
Breaded pork curled in tomato-garlic sage


MEDAGLIONI DI MAIALE E PANCETTA AL BALSAMICO
Pan roasted pork medallion wrapped in Pancetta, balsamic reduction


ARISTA RIPIENA AL SALAMETTO
Roasted pork loin filled with salametto


TAGLIATA RUCOLA, PARMIGIANO E BALSAMICO
Sliced sirloin steak with arugula, Parmigiano and balsamic glace


ROTOLINI DI BRACIOLE RIPIENE
Rolls of beef filled with prosciutto and cheese, tomato sauce


COSTOLETTE D'AGNELLO FRITTE
Breaded lamb chops


COSTOLETTE D'AGNELLO AL SANGIOVESE
Pan roasted lamb chops with Sangiovese reduction

---------------------------------
SEAFOOD
---------------------------------

RISOTTO VONGOLE E PROSECCO
Risotto with fresh clams and Prosecco


PENNE ALLE COZZE E ZAFFERANO
Penne with mussels, saffron, lemon creamy sauce


PENNE ALLE COZZE, SALSICCIA E PEPERONCINO
Penne with mussels, sausage and spicy peperoncino


PENNE ALL' ARAGOSTA FLAMBE'
Penne with fresh lobster, flambe' creamy brandy pink sauce


PACCHERI AL BRANZINO
Paccheri pasta with Sea bass ragu'


SPAGHETTI ALLO SCOGLIO
Spaghetti with clams, mussels, calamari and prawns


SALMONE AL PROSCIUTTO E OLIVE
Pan roasted salmon filet wrapped in prosciutto with olives-wine sauce


BRANZINO LIVORNESE
Pan roasted sea bass with olives, capers and tomato sauce


SOGLIOLA AL LIMONE
Sauteed fresh sole with lemon-caper-butter sauce


GAMBERONI AL PROSCIUTTO
Prosciutto wrapped jumbo prawns, Cannellini bean-lemon spread


COZZE AL TRAMONTO
Fresh mussels with tomato-egg sauce


CACCIUCCHINO
Seafood stew cooked in tomato-red wine sauce

SIDES AND DESSERT
SIDES 
**************************
FAGIOLINI IN UMIDO - Tuscan green beans braised with tomato sauce
PISELLINI SALTATI - Sauteed peas with garlic and parsley
CECI All' ASIAGO E ROSMARINO - Sauteed garbanzo with rosemary  and Asiago cheese
RAPINI AGLIO E OLIO - Sauteed rabes with garlic and olive oil
SPINACI ALL' AGRO - Sauteed spinach with lemon, garlic and olive oil
CARCIOFI AL LIMONE - Steamed artichoke with lemon and olive oil
FAGIOLI ALL' UCCELLETTO - Cannellini beans with sage, garlic and light tomato sauce
PATATE RIFATTE - Twice cooked potatoes with tomato sauce
PATATE FRITTE - Fried potatoes with rosemary
SALVIA FRITTA - Fried sage leaves
FUNGHI TRIFOLATI - Mushroom Trifolati
VERDURE ALLA GRIGLIA - Grilled seasonal vegetables with olive oil and balsamic glaze
DESSERT
*********************
PESCHE ALLA VERNACCIA - Fresh peaches with Vernaccia wine, lemon on vanilla gelato
ZABAGLIONE CON LE FRAGOLE - Cold egg cream Zabaglione with strawberries
CANTUCCI E VIN SANTO - Tuscan almond cookies Cantuccini & Vin Santo dessert wine
TORTA DI MELE CON GELATO - Apple tart with gelato
TORTA DELLA NONNA - Pine nuts custard cake
TIRAMISU - Traditional coffee mascarpone Tiramisu'
CREMA DI MASCARPONE - Cream of Mascarpone with berries